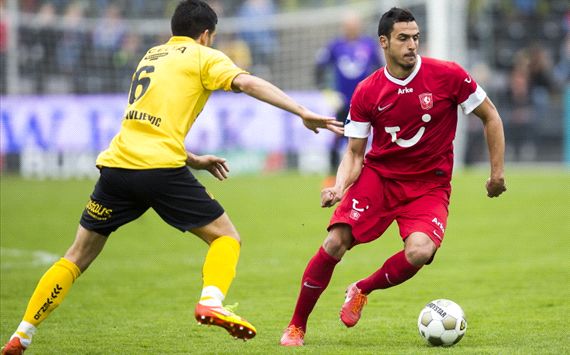 Chadli
plays
down
Juventus
link
The Belgian winger has been mooted for a potential move to Italy in recent days but the 23-year-old insists he has made no decisions yet on his future
Nacer Chadli
has distanced himself from rumours suggesting he is on the verge of completing a move to
Juventus
and says Serie A is not what it used to be.
The Twente wide player has been strongly linked with a move to the Old Lady in recent weeks, but the 23-year-old seems unconvinced of an impending transfer, believing his future may still lie in Enschede.
"I do not know anything about [the rumours]," he told
Voetbal International.
"Juventus are of course a very nice club, though Serie A is no longer what it used to be.
"Juventus, Inter and AC Milan are the only three real clubs at present.
"There is interest from more clubs, but for now I'm focusing first on the [Europa League] playoffs with Twente and internationals with Belgium.
"Only when I'm on holiday, will I think about a decision. I therefore won't rule out staying another year at Twente."
The Belgian international has one year left on his current deal which expires in July 2014.
Chadli joined Twente from AGOVV Apeldoorn 2010 and has made over 100 appearances, scoring 37 goals in the process.